As the holidays are steadily approaching, you may or may not have had the chance to 1) organize your company party, 2) already have had the party and are still reminiscing on who drank way too much egg nog or 3) planning on celebrating after the holidays. If you are planning on celebrating after the holidays here are a few tips on how to make the most memorable holiday party!
Tip One : Creative invites: While sending an e-mail for the office party may be efficient and easy, why not take it a step further and spice up your e-mail! You can use a site called Paperless Post ; where you can use free invites for all occasions. **Remember to send out your invites at least 2 weeks prior to your event date.
Tip Two : Spaces that work: Many times when you plan your holiday party after the holiday season, you are able to get a better deal on a venue, art gallery or restaurant space. Another way to cut cost is to host the space at your office. Use a conference room, or if you have a warehouse you could set up a tent to give the impression of a new space.
Tip Three : GIVE, GIVE, GIVE….set up a charity for the office. Have everyone bring a toy or donate money that possibly the company can match for an organization.
Tip Four: Decor: Find two to three colors you would like to see throughout the party. Some examples may be hues of blues, whites and silvers, traditional red and green, magenta and lime and even using citrus colors, oranges, reds, dark reds and a tint of green and gold. If you plan on having your event that needs a little spicing up, call Allwell Rents to rent your linens, china, tables and chairs-303-935-7705 – www.allwellrents.com. Rentals can add a unique touch that helps with the hassle and clean up of your party and can be very inexpensive versus purchasing all of those items. Also another site to find inspiration would be through Pinterest. Below are some photos of inspiration: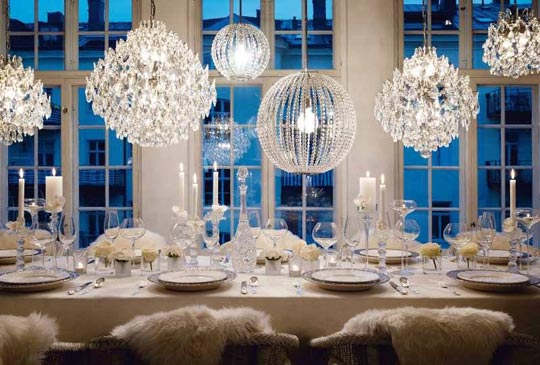 Tip Five : Eat, Drink and Be Merry: While we all enjoy the egg nog sometimes it is best to make fun, nonalcoholic beverages to serve. You can rent our crystal glassware for $.75 per glass or our onyx crystal for $1.75 at Allwell Rents 303-935-7705–www.allwellrents.com. These specialty glasses will add a unique look to your event. While we all want to have a good time, sometimes by not providing the open bar, the party can be more manageable and responsible and a lot less embarrassing the next day. If you do decide to serve alcohol make sure to limit the alcohol consumption or provide a car pool or designated driver for those who choose to drink.
Tip Six : Enjoy, have fun and don't forget to call Allwell Rents to place your rental orders! 303-935-7705 or www.allwellrents.com